Linking Science & Literacy for All Learners partners with teachers of 6th-8th grade Life Sciences, English Language Arts and Special Education for this exciting opportunity funded by a National Institutes of Health Science Education Partnership Award (NIH-SEPA). With our partner teachers, we will:
Develop grade-level STEM multimodal text sets and linked inquiry activities that address NGSS and CCSS-ELA.RST standards,
Provide support for using the text sets and linked inquiry activities, with special attention to the needs of diverse learners.
The yearlong teacher PD will focus on these aims through support from a multidisciplinary team at MU with expertise in Special Education, English Education and Biochemistry.
Preference will be given to Life Sciences, ELA and Special Education teacher collaborative teams from the same building.
Teachers chosen will participate in research related to the use of STEM multimodal text sets and linked inquiry in their classrooms. We are interested in its effect on diverse learners' interest in STEM careers and achievement of NGSS and CCSS-ELA.RST Practices and Performance Expectations.
Apply Here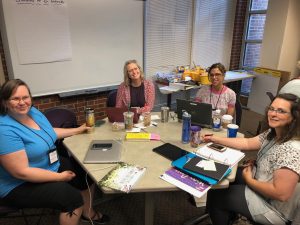 "We are committed to forming a community of practice where we learn from and with each other in order to strengthen science and literacy achievement and understanding by diverse middle school students."
Professional Development in the time of COVID-19 As with most things in the unique year of 2020, our LS&L4AL program professional development (PD) did not occur as planned.  However, 2020 in turn offered a rare opportunity to provide a program…
Meet the authors of "Flight of the Bumblebee" and "Earth and Human Body Systems"
Our current peer teachers started as Cohort 1 participants in the program pilot year, and now act as advisors and mentors to the current Cohort 2 participants.  LORI PINKSTON, Kirksville School District I became interested in the Linking Science…